Project Sponsorship
Capstone projects are sponsored by corporate clients that include local, regional, and national companies ranging in size from small to very large.
"Auto-Owners Insurance is proud to be a capstone project sponsor. Our strategic partnership has enabled us to identify and recruit outstanding MSU graduates."
• Tony Dean
Sr. Vice President
Information Technology Infrastructure
Auto-Owners Insurance
Prior to each semester, project proposals are solicited from potential sponsors by the course professor, Dr. Wayne Dyksen. After appropriate vetting and refinement, the winning proposals are selected.
The total number of sponsorships is limited by student enrollment and ranges from from twenty to twenty-four.
Project sponsorship is $5,000.
Benefits of Sponsorship
The benefits of capstone project sponsorship include
a guaranteed slot for a capstone project,
significant visibility with our graduating seniors,
assistance with recruiting students,
opportunities to present at our all-hands meetings,
access to the Capstone Lab for recruiting and interviewing students,
assistance with organizing and publicizing on-campus corporate informational sessions,
postings on the Capstone Career Opportunities page,

publicity in our Capstone Experience Slide Gallery displayed in the Capstone Lab and on the Capstone web site,
special acknowledgement in the The Capstone Experience booklet,
a full project page in the The Capstone Experience booklet,
special acknowledgement in the Design Day booklet,
a full project page in the Design Day booklet, and
broad corporate publicity on Design Day.
Design Day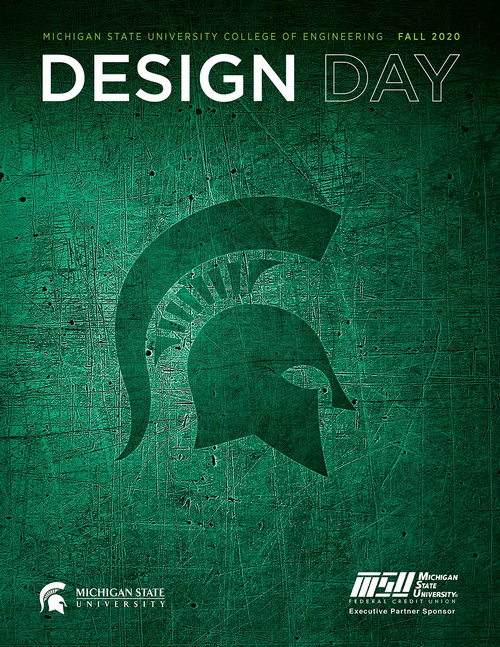 At the end of each semester, the College of Engineering sponsors Design Day, at which student teams from throughout the college showcase their capstone design projects in the Engineering Building to the general public. Attendees include corporate clients, families, faculty and students, along with hundreds of local junior high and high school students.
Computer science capstone teams present to a panel of corporate judges, competing for prestigious Design Day awards.
Capstone Project Sponsors
Capstone project sponsors include local, regional, and national companies ranging in size from small to very large. For a complete list of sponsors and projects visit the Archives Projects by Sponsor page.
Accenture
Amazon
AppDynamics
Atomic Object
Auto-Owners Insurance
Bedrock Detroit
Bosch
Chrysler
Dow
Ford
GM
Google
Herman Miller
Humana
Learning A-Z
Lockheed Martin
Meijer
Michigan State University
Microsoft
Mozilla
MSU Federal Credit Union
Principal
Proofpoint
Quicken Loans
TechSmith
TWO MEN AND A TRUCK
Union Pacific
United Airlines
Urban Science
Vectorform
Whirlpool
Volkswagen
The Capstone Experience Brochure
Download and print the tri-fold brochure The Capstone Experience.
Contact Information
For more information on sponsoring a capstone project, contact Dr. Wayne Dyksen.