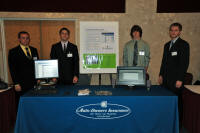 Team 1, Auto-Owners Insurance. Tom Randall, Ashleigh New, Jonathan Lindsey, Michael Kornyski.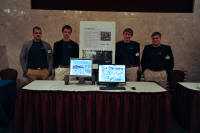 Team 2, Boeing. Tom Pytleski, Jeff Winship, Daniel Briggs, Michael Jeffrey.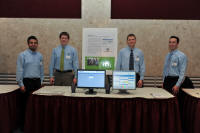 Team 3, Chrysler. Meshal Alsahli, Taylor Marshall, David Ackerman, Julian Simioni.
Team 4, Ford. Jeffrey Ignatius, Ryan Wagoner, Taylor Rice, Ronald Rodriguez.
Team 5, IBM. Michael Haine, Andrew Daniels, Tom Castellani, Richard Schultz.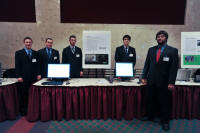 Team 6, Microsoft. Andrew Keller, Tom Alexander, Chris Monosmith, Bruno Sommer, Mathew Mason.
Team 7, TechSmith. Scott Lamparski, Keith Barber, Scott Gebard, Caitlin Nelson.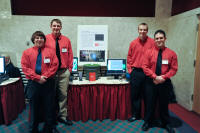 Team 8, Toro. Jacob Denzer, Brian Walsch, Eric Jensen, Brett Lesnau.
Everything is set. Where are the guests?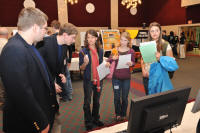 Team Boeing explains their project to CSE100 students.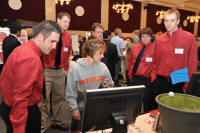 Team Toro entertains questions from an ME graduate student.
CSE100 students discuss the Ford project with Ron.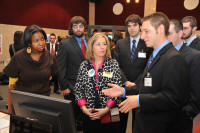 Andrew of Team Microsoft explains their Application Health Monitoring System.
One of Teresa's students writes detailed notes.
Tom Randall takes time out for a picture with his father.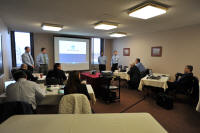 Team Chrysler answers questions for the Design Day judges.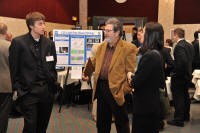 Derek explains cloud computing to some Design Day guests.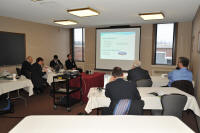 The Ford team presents their project video to the judges.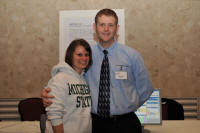 David Ackerman poses by the Chrysler booth with a friend.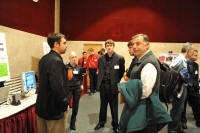 Professor George Stockman grills the TechSmith team.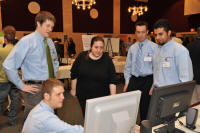 Team Chrsyler demonstrates their Performance Feedback System Dashboard.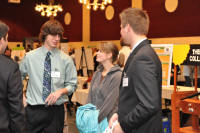 Jonathan answers questions about the Auto-Owners Recruiting Contacts and Events System.
Professor Matt Mutka learns about the Ford Test Drive project from Taylor and Ryan.
Jonathan Lindsey with his proud dad and mom.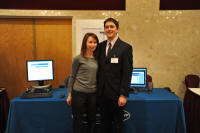 Ashleigh New poses with his wife in front of the Auto-Owners table.
A Design Day guest visits with Team Microsoft.
Jeff Winship explains Team Boeing's KML Urban Scene Builder 2008 to some very special guests.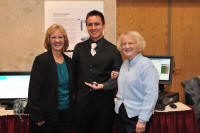 Ronald Rodriguez holding one of the iMote remote sensors flanked by his mother and grandmother.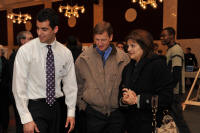 Taylor Rice shows off the Ford project to two special guests.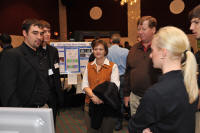 Team TechSmith demonstates their Cloud Powered Media Searching.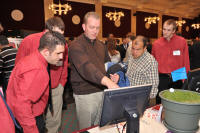 A visitor asks Team Toro about their Golf Vision Interface for Turf Guard.
Keith explains the TechSmith project to Associate Dean Tom Wolf.
Jeff Winship poses with his dad and mom.
Design Day Coordinator Maureen Blazer-Adams judges posters.
Capstone projects displayed in the MSU Union Ballroom.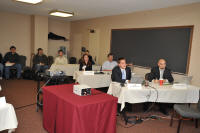 Design Day Judges Kabe VanderBaan, Naim Falandino, Ellen Ellis and Rich Enbody ask questions of Team IBM.
Team IBM fields questions from judges Kevin Ohl, Don Moore, and Alhad Joshi.
CSE100 students attend the awards competition.
Team Microsoft watches their project video with the judges.
CSE100 students learn about Team Microsoft's Application Health Monitoring System.
Taylor Rice of Team Ford takes a quick picture with his mom and da.
Dean Satish Udpa discusses the KML Urban Scene Builder with Team Boeing.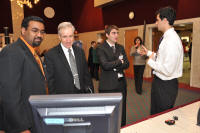 Auto-Owners Insurance Senior Vice President Bob Buchanon views the Ford Test Drive system.
Taylor Marshall poses with his dad, mom, and sister.
Team Toro's Eric Jensen trims the Toro turf before the judges arrive.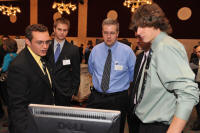 Judge Don Moore of GE Aviation meets with Team Auto-Owners Insurance.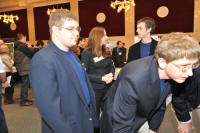 Judge Ellen Ellis of Urban Science discusses the Boeing project with team member Jeff Winship.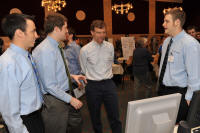 MSU CSE professor and judge Rich Enbody asks a few final questions of Team Chrysler.
Judge Naim Falandino of Covisint gets a few last details about Team IBM's FixPack Publishing Tool Enhancements.
Team Microsoft scores some final points with judge Kabe VanderBaan of Motorola.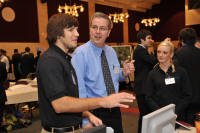 Scott and Caitlin of Team TechSmith demonstrate their media searching tool to judge Don Moore of GE Aviation.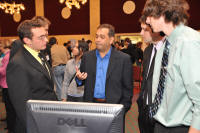 Judge Alhad Joshi of Altair Engineering asks some final questions of Team Auto-Owners Insurance.
Michael Kornyski thanks his favorite academic advisor, CSE's Teresa Vander Sloot.
Professor Rich Enbody examines the brick-like sensor for Toro that measures soil temperature, salinity, and moisture.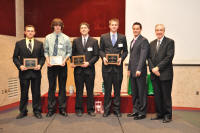 Bob Buchanon presents Team Auto-Owners Insurance with the Auto-Owners Insurance Exposition Award.
Dean Craven presents Team Toro with the TechSmith Screencast Award.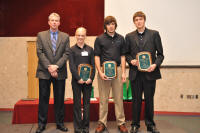 Paul Van Hese presents Team TechSmith with the Chrysler Praxis Award.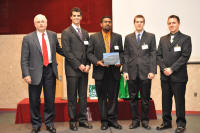 Kevin Ohl presents Team Ford with the Crowe Horwath Sigma Award.